Well, I think I got the crochet fever or something like that. I do more crochet than knitting - I don't know if this is good? But I enjoy it as it's much faster than knitting...
I had some old crochet hooks that I got from my grandma (or was it a grandaunt?). While crocheting with these hooks my fingers got sore. I don't like that plain steel or aluminum hooks very much they look so boring. Some time ago I saw handmade hooks made from polymer clay. A great idea and I have so much old FIMO (polymer clay)! Now here are my first two handmade hooks - aren't they adorable?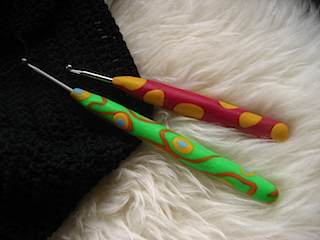 Crocheting potholder again, this time a norwegian pattern (with english translation) I enjoyed very much: Grytekluter is an easy to follow pattern and so adorable. I made this potholders for my ex-mother-in-law.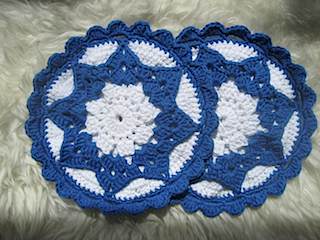 After finishing the potholder I started a new cardigan - it's Prepster from the book "The Happy Hooker". I wanted to crochet that cardigan since I got the book but why did it take so long to start? I use black cotton yarn and I know that I don't have enough. So I just ordered some more skeins. ;-)
My last knitting project was a pair of summer socks made from leftover yarns. I will have to knit some more of this short and black socks as I had to sort out some of my very old and worn out socks.