I tried to avoid blogging for different reasons but I can't do it without. I'm bursting with news and I knitted and crocheted and spun so much in the last 9 month. You can look up all my project on the photo pages.
Here is my latest art yarn - I call it "Harem". It's only 22 m but it has so many beads and sparkling things, it remembers me of all oriental things.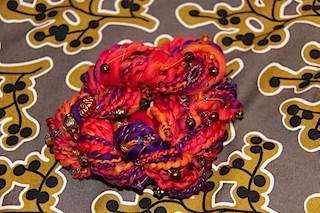 This is Papuff - a big cushion and a destashing project. In the last few months I bought to much yarn (no, you can't have to much yarn!) and I ran out of space. So I decided to decrease my stash by using yarns I bought years ago and that I would never use. I have to destash at least 1 kg yarn and I didn't buy any yarn in January. That's good, so I can get me some yarn in the next month...
At the moment I'm working on the second Papuff and I think I will write down the pattern. It's so easy and crocheted in almost no time. And the effect on my bursting stash is immense!