I will start with my latest addiction, the Skuld Lace Shawls. I joined the Norns-KAL from knitandknag a few weeks ago. I also ordered the original yarn Sappho II from Sanguine Gryphon. Unfortunately my yarn got stuck between US and Germany so I ordered more yarn from wollbox here in Germany. I spent a little fortune on yarn just for this only shawl - I ordered only handpainted yarns, silk and sea silk yarns and other luxury yarns. I have been in great dispair!!!
But luckily I got the delivery from Sanguine Gryphon on june, 16 - one day after the start of the KAL. I started right now and knitted and knitted and knitted and on june 17, late in the evening (ok, it was midnight!) I finished the gray Skuld. My choice was the grayish yarn because Skuld is the norn of that what will be. The future lays in a nebulous fog for me - so gray and steel colors resemble this feeling best.
This is the first Skuld: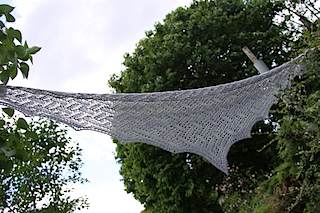 One day later the other yarn arrived and I think this steel gray and blue yarn is a good choice for the second Skuld. The pattern is so addictive that I have to knit another one what is a very rare occasion!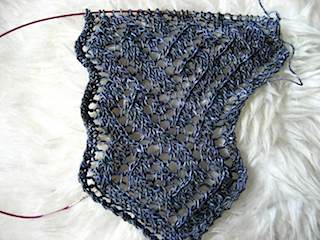 The Unbeaded Nymph Sweater is a little raglan tshirt knitted from 2 skeins of sock yarn. I just wanted to try if I am able to knit a sweater with very fine yarn. And yes - this is addictive too! I have already plans for the next sweater!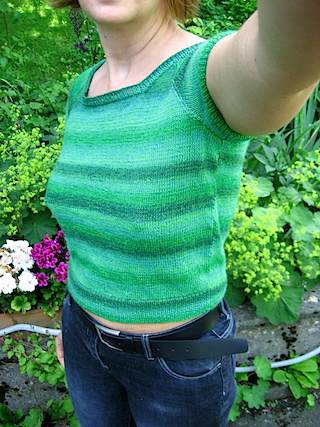 The Fountain Pen Shawl - another very fast lace project that was great fun to knit with Malabrigo Lace yarn: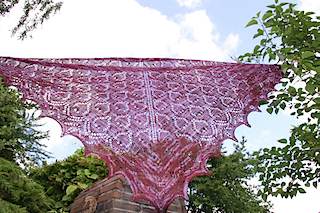 And at last there is a summer project, the crochet top: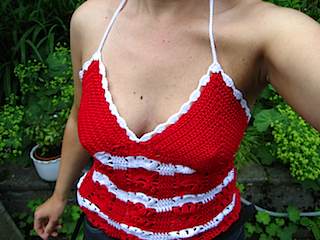 More pictures of all projects can be found on the photo pages...