This year I planned to learn the fair isle technique - knitting with two colors. But I just knitted a pair of socks and I can't tell that I really was able to knit with two strands of yarn. After I felted almost all my sweaters for a patchwork project and winter is coming very soon I decided to knit a sweater in fair isle technique. I choose sock yarn as I had so much of that cheap yarn in my stash - I will never knit so many socks! Ok, a sweater made from sock yarn. At least I decided to use double sock yarn so I will see progress soon. I took the seamless sweater pattern from Elizabeth Zimmermann and started knitting.
After a few rounds with holding two different strands of yarn on one hand I got it and couldn't stop knitting. Yeah, I managed it! And one week later my sweater was finished: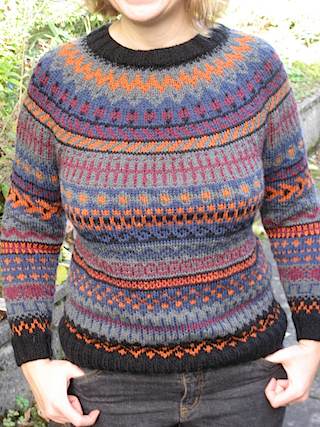 Now I'm planning to knit more and more in this technique: Socks, hats, mittens and of course another sweater. Perhaps I will try steeking!!!
Here is a scarf for my nephew Max - the alligator/snake scarf with mittens integrated: